11 June 2020
Cork: The winners of the 250 Airtastic Gift Vouchers for HSE and Key Workers Staff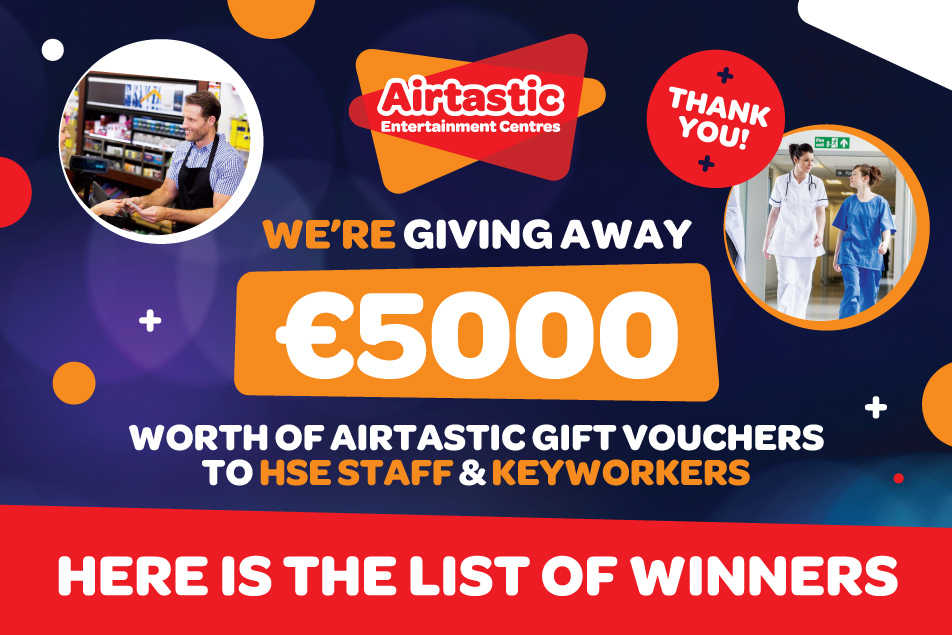 We're giving away 250 Airtastic Cork Gift Vouchers to the value of €20 each to HSE and Essential Services staff. Here is the list of the 250 winners. Congratulations and thank you!
During the month of May we received hundreds of applications for the Airtastic Gift vouchers we've offered to HSE Staff and Key Workers as a sign of our appreciation for their hard work, dedication and selfless care for the others during the Covid-19 pandemic.
Since we received such a great interest in this campaign and we had so many applicants, we've randomly selected 250 winners, listed below.
If your name is on the list, you've already received an e-mail from us confirming that you won one of the €20.00 Airtastic Gift Vouchers and instructions on how to avail of the voucher.
If your name is on the list, we congratulate you. Your HSE/Key Worker Airtastic Gift Voucher to the value of €20.00 will be waiting for you in Airtastic Entertainment Centres, Little Island, Cork.
When normality returns and our centres are open again, you can use this voucher any day and for any of the following services: you can play ten pin bowling, mini golf, you can inflata bounce and ninja, or you can enjoy Delicious food in our NY Kitchen.
We hope that you'll enjoy spending some valuable time with your loved ones and forget about the hard times for a while.
The winners are:
1.PAMELA CREGAN - CARER
2.DOROTA GORA FOR WIOLA CHUCHNOWSKA - MIDWIFE IN CUMH
3.PATRICE ARRIGAN FOR GLEN ARRIGAN - CLINICAL NURSE SPECIALIST
4.KLARA MCAULIFFE FOR RUTH MCAULIFFE - HSE MERCY MEDLAB
5.AISLING DURNIN FOR CORMAC DURNIN - SHOP ASSISTANT
6.EILEEN HOGAN - SUPERMARKET SUPERVISOR
7.LAURA JONES FOR MARK JONES - SUPERMARKET TESCO
8.RACHEL BRENNAN FOR EMILY TERRONI - NURSE AT THE COPE FOUNDATION IN CORK
9.ELIZABETH HURLEY FOR EILEEN O' SHEA - NURSE
10.ROSE BRODERICK FOR HELENA LANE - NURSE
11.AUDREY O REGAN - PHARMACY TECHNICIAN CUH
12.LOUISE TIERNAN - NURSE
13.AVERIL BARRY FOR CLAIRE SLYNE - NURSE
14.LYNDA KENEFICK FOR LIZ HAYES AND NIAL HAYES - MARYMOUNT HOSPICE AND GUARD
15.LYNDA WOOL FOR JASON WALSH - SOCIAL CARE WORKER
16.MáIRE CASEY FOR FIONA NOLAN - NURSE
17.JANA O'CONNELL - HOSPITAL CATERING STAFF
18.MARY CORCORAN - MEDICAL SCIENTIST HOSPITAL
19.GRACE BRENNAN FOR PADRAIG VARIAN - A&E MANAGER
20.AUDREY O'SHEA FOR ALEX O'SHEA - FIREFIGHTER
21.CAROLINE BUCKLEY - MEDICAL LABORATORY AIDE IN CUH
22.MARY CLARE-SWEETNAM FOR ORLA CONNOLLY - NURSE
23.LOUISE FENTON FOR SUZANNE O NEILL - NURSE
24.CATHERINE FOXE FOR JOHN WHITE - FACTORY WORKER IN STRYKER
25.CATHERINE HEALY FOR NORMA DUNLEA - NURSE
26. JELENA MACANOVIC FOR BOJAN MACANOVIC - DOCTOR
27. MICHELLE O BRIEN - HEALTHCARE ASSISTANT
28. TARA FITZGERALD FOR SOPHIA FITZGERALD - HEALTH CARE ASSISTANT
29. CLINTON ROCK - GARDA
30. JESS LINEHAN - KEY WORKER IN PHARMACEUTICAL
31. CLARE DUGGAN FOR GARY DUGGAN - ESSENTIAL WORKER
32. TRACY QUINLAN FOR SUSAN AHERNE - NURSE
33. NICOLA CHAMBERS - BANK BRANCH STAFF
34. NICOLA POWER FOR KELLY POWER – RETAIL
35. VICKY O SULLIVAN - MIDWIFE
36. KATE O DRISCOLL - NURSE
37. KAREN O CONNELL FOR STACEY HIGGINS - CLEANER CUH.
38. ED HEALY - PRISON OFFICER
39. ANGELA BYRNE FOR VALARIE MOLLOY - GARDA
40. AILEEN HASTINGS FOR - NA
41. EMMA AHERN - DOCTOR
42. MARIA CROWLEY FOR CATHERINE KEENAN - NURSE
43. HUMAIRA AMIN - DOCTOR
44. MARY CAREY - NURSE
45. MEGAN SIMMS FOR TONY SULLIVAN - MANAGER AT ALDI
46. MARIE HORGAN - HEALTHCARE PHARMACEUTICAL
47. KATHY RAHER - HOSPITAL CHEF
48. SARAH BUCKLEY - NURSE
49. ANNMARIE DRENNAN FOR MARK DRENNAN - WORKS IN MANUFACTURING
50. GARY CANNING – CARE WORKER
51. SARAH LANE - HEALTH CARE ASSISTANT
52. SHARON WALSH FOR GILLIAN WALSH - NURSE
53. SOPHIE IVERS FOR JACK IVERS - DEFENCE FORCES SOLIDER
54. MELISSA ROCHE FOR KARINA KAVANAGH - HSE COPE FOUNDATION
55. ADRIAN CRELLIN - CLINICAL NURSE MANAGER
56. PETEE WARD - ATTENDANT AT. FINBARRS HOSPITAL
57. ROSE O' DRISCOLL - MEDICAL SCIENTIST IN BANTRY HOSPITAL
58. NIAMH CONNOR - CHEF
59. WIOLETTA CONROY FOR PIOTR WOCHNA - LIDL MENAGER ASSISTANT
60. CARMEL LEHANE - SHOP WORK
61. CATHERINE ROCHE FOR JERRY ROCHE - HSE SECURITY OFFICER CUH
62. MARITA SEXTON FOR CATHERINE MULCAHY - MID WIFE CUMH
63. JOHN MANNION FOR SINEAD MANNION - HEALTHCARE ASSISTANT HSE
64. KAREN O SULLIVAN - NURSE
65. LIZ QUINN FOR NOEL QUINN - THE DONKEY SANCTUARY MALLOW
66. LINDA MASON - HEALTH CARE ASSISTANT
67. EMILY SCANLAN - SOCIAL CARE WORKER
68. SEAMUS FORDE FOR CLARE O'SULLIVAN CASHMAN - NURSE
69. NICOLA KELLEHER FOR ROSE HARRINGTON - ICU NURSE
70. LAURA MURPHY - MEDICAL SECRETARY
71. RACHEL O REGAN FOR JILL MARTIN - NURSE
72. GARY BRENNAN FOR CAROL ANN BRENNAN - GARDA
73. ANN-MARIE KANE FOR KIERAN HENRY - AMBULANCE SERVICE
74. MIRIAM SPILLANE FOR MARTINA SPILLANE - HEALTH CARE
75. EILEEN HURLEY FOR PATRICIA HURLEY - HSE CARE ASSISTANT
76. GRACE HEALY - NURSE
77. MARTIN CHILVERS - HEAVY HAULAGE
78. MAREK MAZUR FOR WILLIAM - RADIOGRAPHER
79. DEIRDRE MCCARTHY - HEALTH CARE SUPPORT
80. AOIFE O'SULLIVAN FOR FIONAN BURKR - PRISON GUARD
81. AUDREY O DONOVAN FOR CATRIONA HEGARTY - CODER ADMIN IN CUH
82. ISABELLE WALSH - SHOP ASSISTANT
83. KAREN O'FLYNN - GARDA STAFF, PROTECTIVE SERVICES UNIT
84. LEON MANNING - GARDA
85. LISA DELANEY FOR ROY CALLANAN - MEDICAL SUPPLIES
86. LIZ TWOMEY - GARDA
87. SINEAD NOLAN - NURSE
88. PAMELA DEASY FOR CLARE DEASY - HEALTH PROMOTION CONTACT TRACING
89. TRIONA FINN - HSE ADMINISTER
90. COLETTE GRANT - ONCOLOGY NURSE
91. TRACEY LOWNEY FOR CLAIRE LEHANE - SOCIAL WELFARE OFFICER
92. TINA GALLAGHER - HOMECARE MANAGER
93. ANITA MURPHY - NURSE
94. ANNETTE MCCULLAGH FOR JOHN MCCULLAGH - SECURITY DEPARTMENT CUH
95. NIAMH POWER - NURSE
96. SHEENA WILKINSON FOR REGINA WILKINSON - NURSE
97. THOMAS O DONOVAN - NAVAL SERVICE
98. JONATHAN WALSH FOR JOAN WALSH - LAB TECHNICIAN
99. NIAMH COLLINS - PHARMACEUTICAL PLANT OPERATOR
100. REGINA BYRNE - GARVEYS SUPERVALU
101. AILEEN CASHMAN FOR UNA CASHMAN - FRONT LINE DEPUTY NURSE
102. ANTHEA COSTELLO - COUNTY COUNCIL
103. JUDY DUNNE FOR STEPHANIE DENNEHY - CAREER
104. KEVIN JOYCE - GARDA
105. KIRSTIE MATTHEWS FOR PAUL MATTHEWS - RETAIL WORKER TESCO
106. ROISIN O ROURKE - MEDICAL DOSIMETRIST RADIOTHERAPY
107. CARRIE O SULLIVAN FOR KATE GRIFFIN - SHOP ASSISTANT
108. VICKI KINGSLEY FOR AARON KINGSLEY - HSE SUPPLIES OFFICER
109. LAURA MCCARTHY FOR NICOLA MCCARTHY - PHARMACIST
110. SARAH ADAMSON - NURSE
111. JACQUELINE CUDDIHY - NURSE
112. REBECCA DUGGAN FOR PAULA COAKLEY - WORKS WITH DISABILITIES
113. ALAN O'MAHONY FOR CLAIRE MCCARTHY - HSE NURSE
114. NICOLE CAELIUS FOR THERESE JORDAN - ICU/ RECOVERY NURSE
115. JENNIFER MURPHY - STAFF NURSE, CUH
116. CLAIRE COONEY FOR EMMA BARRETT - CARE ASSISTANT. CARE CHOICE
117. DEBORAH CRONIN - CARE ASSISTANT - COPE FOUNDATION
118. LISA RAYMOND FOR FINBARR RAYMOND - TNT COURIERS
119. HILARY DEMPSEY - CENTRA SUPERMARKET
120. NIAMH MC CULLOUGH FOR TOM MC CULLOUGH - NURSE - EMERGENCY DEPT
121. EMMA MURPHY - HEALTH CARE ASSISTANT/ STUDENT NURSE
122. SIOBHAN O CONNOR - EMERGENCY DEPARTMENT NURSE
123. CATRIONA HEGARTY - DATA MANAGER CUH
124. VALERIE O DRISCOLL - CLEANER IN SOUTH INFIRMARY HOSPITAL
125. SINEAD O CALLAGHAN FOR SARAH O CALLAGHAN - CHEF IN NURSING HOME
126. JANET LINNANE FOR PAUL LINNANE - GUARD
127. CATRIONA SWEENEY - OCCUPATIONAL THERAPIST IN THE MERCY
128. ANNE CLANCY FOR DIANNE MURPHY - NURSING HEALTHCARE
129. SARAH HARRIS - HEALTH CARE ASSISTANT
130. PAILA O DONOVAN FOR MICHELLE SHEEHAN - NURSE
131. VICKI MURPHY - NURSE
132. MARGUERITE MURPHY - RADIOGRAPHER
133. VALERIE COOPER - BON SECOURS HOSPITAL
134. NORMA SPRATT - HEALTH CARE ASSISTANT
135. MAIREAD HEALY - NURSE
136. NIAMH O'FLAHERTY FOR CIARA MURPHY - CARE WORKER
137. CARMEL HEGARTY - PHARMACY RETAIL ASSISTANT
138. STEPHEN O SULLIVAN FOR ROBYN O SULLIVAN - BLOOD BANK CORK
139. THERESE WHITE - SOCIAL CARE WORKER BOC
140. DEIRDRE LONG - HSE WORKER
141. KIM MURRAY - HEALTHCARE ASSISTANT
142. SEAN MAXWELL FOR TRUDY MAXWELL - HEALTH CARE ASSISTANT
143. GAVIN ASTON - POSTMAN
144. CIARA LYONS FOR AIMEE MAHER - CARE WORKER COPE FOUNDATION
145. WAYNE SHEEHAN - RETAIL WORKER
146. ANNETTE CONWAY FOR CATRIONA MURPHY - INFECTION CONTROL NURSE
147. SUSAN ABRAHAM - NURSE
148. AILEEN O MAHONY - PHARMACY TECHNICIAN
149. ANNE O DONOVAN - MEDICAL SECRETARY
150. KATE LANGFORD - NURSE AID
151. ALISON COVENEY - HSE ASSISTANT
152. GARY COAKLEY - GARDA
153. IMELDA O REGAN - HSE HOME HELP
154. LANA HURLEY - SUPERMARKET WORKER
155. TRISH MCDONALD - NURSE
156. CATHERINE KEARNEY FOR CATHERINE KEARNEY - ICU NURSE
157. NORA RIORDAN FOR AOIFE RIORDAN - SHOP ASSISTANT
158. MARY MCGUANE - GENERAL NURSE
159. BRENDA MYLER - CATERING MARYMOUNT HOSPICE
160. JESSICA WHOOLEY FOR DAN LORDAN - GARDA
161. ROSE WIGGINS FOR TRACY HANLEY - ICU NURSE
162. FIONA O SHEA - PHYSIOTHERAPIST
163. VIVIEN BUTLER FOR GEORGE KENNY - FACTORY WORKER. FOOD.
164. KATE FORSTER FOR JOHN WALL - WORKS IN PHARMACY
165. EIBHLIN DROHAN - SOCIAL WELFARE OFFICE
166. ELAINE LOOBY - NURSE
167. SHARON GEOGHEGAN - NURSE
168. ROSANNA WATSON - STAFF NURSE, DIALYSIS, CUH
169. MARIE O' MAHONY - SOCIAL CARE LEADER
170. JASON O BRIEN - DIABETIC UNIT CUH
171. MARY ESSEX - CHILDRENS NURSE
172. AMY MCCARTHY - NURSE
173. OISíN BROWN - SECURITY
174. CASSIE MANLEY - HEALTHCARE ASSISTANT
175. SINEAD O SULLIVAN - HEALTH CARE ASSISTANT
176. RACHEL O'DONOVAN FOR JULIE Uí BHEOLáIN - NURSE
177. DR.UTSAV DHAMELIYA - DOCTOR
178. SINEAD O MALLEY - NURSE
179. PATRICK O SULLIVAN - MICRO BIOLOGIST
180. JULIANNE QUINLAN FOR LIZ MURPHY - FRONTLINE DOCTOR
181. CAROL LUCEY - SPECIAL NEEDS CHILDREN
182. DEIRDRE TREACY - CLERICAL OFFICER WITH HSE
183. EILEEN HAYES - ICU NURSE
184. EILEEN LYNCH - NURSE MANAGER
185. TOM HAYES - HEALTH CARE ASSISTANT IN ED
186. SHEILA BUCKLEY - HOMECARE
187. LAURA RABBITT - CHILDRENS NURSE
188. ALEX CULLEN FOR JESSICA O' SULLIVAN - NURSE IN CUH
189. PATRICIA RYAN - HEALTHCARE ASSISTANT
190. ORLAITH O DRISCOLL - STAFF MIDWIFE
191. CHRISTINA CROWLEY FOR JANET CROWLEY - TESCOS SHOP ASSISTANT
192. BERNIE DOWNEY - DOCTORS SURGERY MANAGER
193. CLAINNA EADIE FOR NICHOLA CAIRNS - GA TESCO
194. CHRIS EADIE FOR KATHY EADIE - GA WINEMARK
195. AVRIL KEATING - CLINICAL NURSE MANAGER
196. BREFANY SANDS - MEDICAL LABORATORY AIDE
197. VINCENT HOOLEY - PORTER IN CUH
198. MAGS WARING - SUPERMARKET CASHIER
199. AMANDA CONNOLLY FOR NIKKI COGAN - GARDA
200. TOMSON P ABRAHAM - STAFF NURSE
201. DEBBY MURPHY FOR SHARON WHITE - MENTAL HEALTH SERVICE
202. GEORGINA HORGAN FOR TREVOR HORGAN - DEFENCE FORCES
203. VANITHA BOYLAN - STAFF NURSE MERCY HOSPITAL
204. ANDREA MCELROY FOR RYAN HARTNETT - ICU NURSE
205. CLAIRE MCCARTHY - PRACTICE NURSE AT GP SURGERY
206. IRINA O'MAHONY FOR JULIANNE QUINLAN - CARE WORKER
207. TRINA GEORGE FOR ROSE MURPHY - DOCTOR
208. MARK MCMAHON - HSE PROCUREMENT WORKER
209. FIDELMA HISTON FOR KIERAN HISTON - GARDA
210. LARA BLACK FOR IAN O'MAHONY - WATER ENGINEER
211. CATHERINE DALY - CHEF
212. SUSAN O'BRIEN FOR CUH NURSES ON THE FRONT LINE
213. MARIA DURA - PERSONAL ASSISTANT
214. ALANNAH MCSWEENEY FOR EILEEN - PHARMACY
215. MICHELLE MULCAHY - PSYCHIATRIST
216. VIV MULQUEEN FOR SHANNON MULQUEEN – RETAIL
217. LOUISE LINEHAN - MEDIAL LAB AIDE BONS SECOURS CORK
218. NIAMH HEELAN FOR CHLOE EDWARDS - RESIDENTIAL CARE WORKER
219. JONNY MCGREECHAN - SUPERMARKET MANAGER
220. SUSAN LYONS FOR SEAN LYONS - RETAIL MANAGER FOR TWO STORES
221. CHARLENE CURTIN - PHARMACEUTICAL LABORATORY ANALYST
222. VIRGINIA AMY - HEALTHCARE ASSISTANT
223. MICHELLE DAWES - SOCIAL CARE WORKER
224. NIAMH HERLIHY - NURSE
225. SARAH GALVIN - PHARMACEUTICALS
226. LAURA LINEHAN - HSE HEALTHCARE ASSISTANT
227. CIARA MCNAMARA FOR DEBORAH BARRETT - NURSE
228. ANDY VALIN - STAFF NURSE @ BON SECOURS HOSPITAL CORK
229. MICHAEL COLLINS FOR MARY THERESA MORIARTY - HSE HEALTHCARE ASSISTANT
230. TRACY LAHIVE - HEALTH CARE WORKER IN COPE FOUNDATION
231. TRACY O DRISCOLL FOR ANN KEATING - PHARMACY
232. EILEEN KINGSTON - HEALTH CARE WORKER
233. TRICIA BYRS - PHARMACY TECHNICIAN
234. MAIRE HOUSTOUN FOR CONAL HOUSTOUN - DOCTOR
235. ELAINE KENNY FOR LAURA HEFFERNAN - PATH CARE WORKER
236. MARIAN MCCAULIFFE - ESSENTIAL SERVICE PROVIDER
237. DENISE HARRINGTON - ESSENTIAL SERVICE PROVIDER
238. ZARA FARQUHAR - ESSENTIAL SERVICE PROVIDER
239. GENEVIEVE - ESSENTIAL SERVICE PROVIDER
240. FIONA O'CALLAGHAN - ESSENTIAL SERVICE PROVIDER
241. SIOBHAN COLLINS - ESSENTIAL SERVICE PROVIDER
242. MARY COAKLEY - ESSENTIAL SERVICE PROVIDER
243. ALAN COOPER - ESSENTIAL SERVICE PROVIDER
244. MARK HOLLAND - ESSENTIAL SERVICE PROVIDER
245. BREDA LYNCH - ESSENTIAL SERVICE PROVIDER
246. ROBYN MADDEN - ESSENTIAL SERVICE PROVIDER
247. JACKIE DALY FOR BRENDA BARRY - ESSENTIAL SERVICE PROVIDER
248. TIA DENNIGAN - ESSENTIAL SERVICE PROVIDER
249. SABRINA BOYD - ESSENTIAL SERVICE PROVIDER
250. MARIE O'DONOGHUE - ESSENTIAL SERVICE PROVIDER