03 July 2020
WAS YOUR BIRTHDAY DURING LOCKDOWN?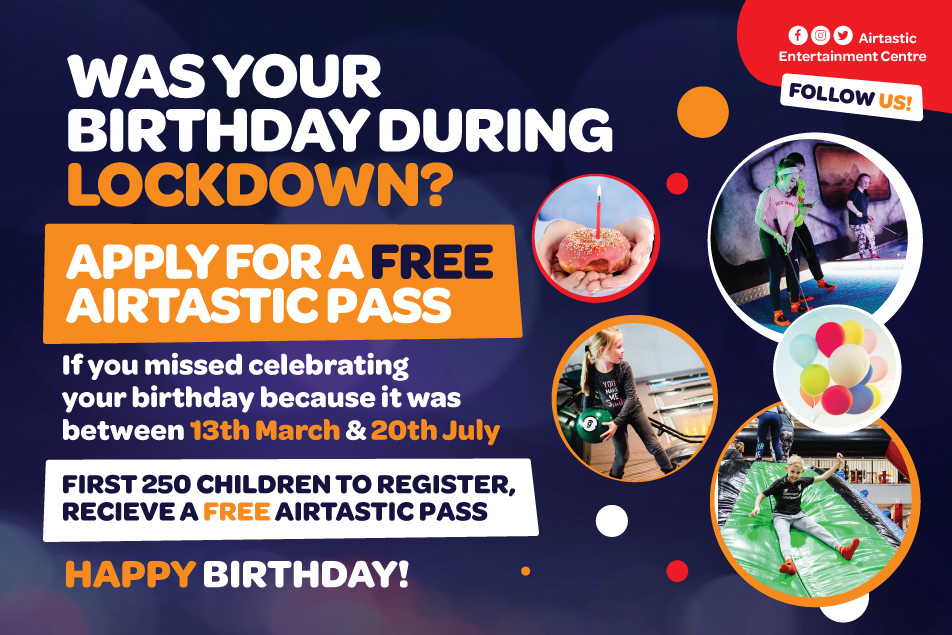 CORK: FREE AIRTASTIC PASS TO THE FIRST 250 BIRTHDAY KIDS WHILST ON LOCKDOWN
We can't even imagine how hard it must have been for parents to have to tell their children that they would not be able to celebrate their birthday with their best friends because of lockdown. The one day of the year that is dedicated to them, the most special day of the year!
We want to help make it up to them. If your child's birthday celebrations were cancelled due to the Covid-19 crisis, make sure you are one of the first 250 people to let us know by filling in the form linked here:
https://mailchi.mp/air-tastic/birthday-in-lockdown
and we will have a free birthday pass to Airtastic Cork waiting for them. Something really exciting to look forward to.
Remember, the first 250 applications receive a free Airtastic pass. So hurry and apply as soon as you can.
T&C's:
Parents of children whose birthdays fall between the 13th March and the 20th July, ages 4 to 14 can apply for a free Airtastic Pass.
The first 250 applications in order of registration win a free VIP Pass valid in Airtastic Entertainment Centre Cork.
Registration closes on Wednesday 15th July. We will send an e-mail confirmation to the first 250 people by the 19th July, which will allow us the time to validate the entries. If you have applied, make sure you check your e-mail, including the spam folder. We will also publish the list of the 250 names on our website.
The free birthday pass won can be used only in Airtastic Cork for any of the following adventures – Inflata bounce/Ninja; Play a game of Ten Pin Bowling or Play a game of Space Adventure Mini Golf.
We are operating at reduced capacity. To avoid disappointment, booking must be made in the centre to check availability for your desired session.
Airtastic Cork: Unit 5, East Gate Retail Park, Little Island, Cork. Tel: 0214510553 e-mail: [email protected]
All winners will have to verify the date of birth with a valid form of ID (i.e. passport or birth certificate) which must be presented upon your visit.

We look forward to welcoming everyone from the 20th July onwards.